Henderson Tap House
Henderson Tap House is a full-service sports bar and restaurant located at 2323 N. Henderson Ave in Dallas, Texas. Whether you stop by for a drink, dinner, or to let loose and party, you are always welcome at Tap House!
Current Specials include:
Fat Tire Draft for $5
Truly for $5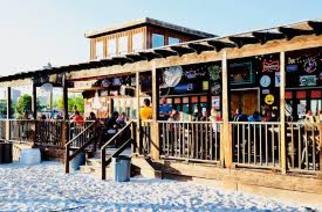 Sandbar Cantina and Grill
Sandbar is home to 9 sand volleyball courts and a tropical themed sports bar. You can enjoy amazing fresh made food, hand crafted cocktails, and local craft beers inside or outside on their rustic deck. You will find Dallas skyline views, beautiful Texas skies, tropical palm trees, wall decor, and so much more.
Specials are active Sunday- Thursday during our Sand Volleyball leagues.
Current specials include:
$5.50 Fat Tire 16oz cans or $27.50 buckets
$5.50 Truly 16oz cans or $27.50 buckets